2018 Adelaide Fringe Artists Poster Distribution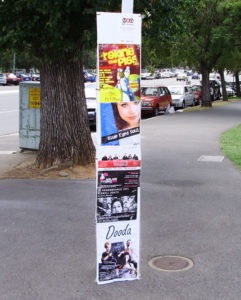 Hi there, Mad Promo has successfully gained another 5 year contract with the Adelaide city council to erect our Fringe courflutes and displays around the Adelaide cdb, and we've been allowed to increase numbers!
For those new to Fringe, our Fringe courflutes are placed around street signs, traffic lights and so on, in all high traffic areas. They house 12 x A3's, and 9 x A2's on the larger ones. Plus our GOUD display and our regular all year round distribution points.
Our rates as follows:
A3's 1.10 each inc gst
A2's 1.32 each inc gst
Flyers $99 per 1,000
Booklets / programs
$110 per 1,000
We are requiring all materials by 10th January 2018, that way your posters are guaranteed to go out on the first run of Fringe courflutes and displays.
We are also happy to accept Comp tickets, as this keeps our shop keepers happy, it gets you better spots, and helps you get bums on seats.
So Fringe artists get on this! there's no time to waste, contact us now to book in.